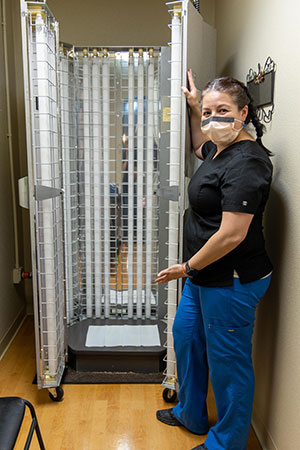 UVB is an effective treatment for psoriasis as it penetrates the skin and slows the growth of affected skin cells. Treatment involves exposing the skin to an artificial UVB light source for a set length of time on a regular schedule. This treatment is typically administered in a medical setting.
There are two types of UVB treatment, broad band and narrow band. The major difference between them is that narrow band UVB light bulbs release a smaller range of ultraviolet light. Narrow-band UVB is similar to broad-band UVB in many ways. Several studies indicate that narrow-band UVB clears psoriasis faster and produces longer remissions than broad-band UVB. It also may be effective with fewer treatments per week than broad-band UVB.
During UVB treatment, your psoriasis may worsen temporarily before improving. The skin may redden and itch from exposure to the UVB light. To avoid further irritation, the amount of UVB administered may need to be reduced. Occasionally, temporary flares occur with low-level doses of UVB. These reactions tend to resolve with continued treatment.
UVB can be combined with other topical and/or systemic agents to enhance efficacy, but some of these may increase photosensitivity and burning, or shorten remission. Combining UVB with systemic therapies may increase efficacy dramatically and allow for lower doses of the systemic medication to be used.
Call for more information or to schedule an appointment with our friendly staff: (707) 545-4537.