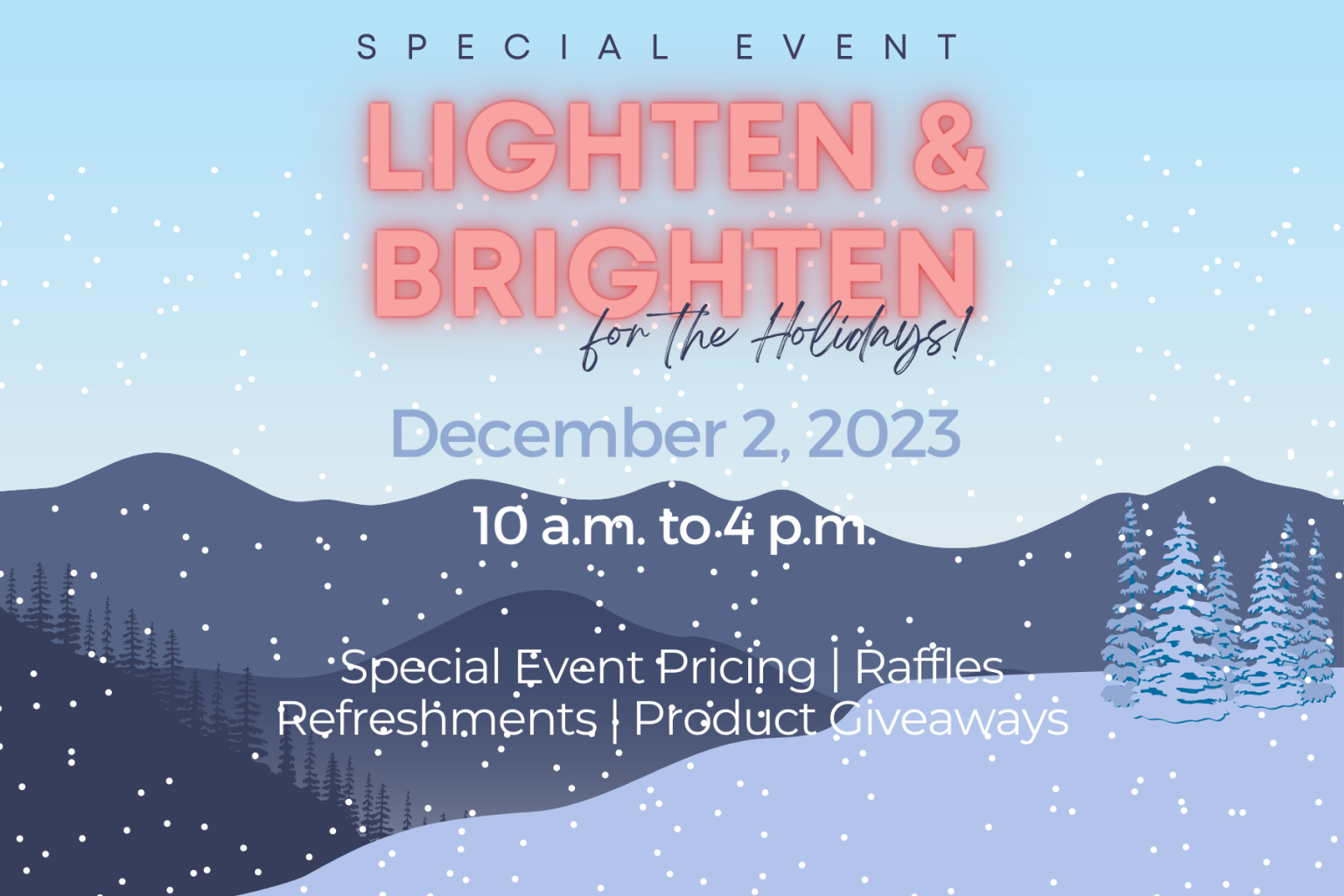 Lighten & Brighten for the Holidays
Join us in Healdsburg Saturday, December 2, 2023, from 10 a.m. to 4 p.m.
Topical product specials
Raffles
Giveaways
and more!

Call 707-545-4537, x137 for pre-booking. Day-of appointments to be offered for the following special event pricing services:
Holiday brightening facial (30 min.)
PRX peel eyes/lips.
Lash/brow tinting.
Botox.
Voluma filler special.
Special event-only promotions:
Aesthetician promos
The skin rejuvenation package
IPL/traditional TCA peel same day service, $650/treatment (Normal price $750 per treatment; performed by aesthetician Heather and RN Tatiana.)
PRX TCA peel specials:
Eyes + lips (2 treatments): $250.
Purchase face/neck treatment get chest free (Value: $200!). Treatment with aesthetician only.
Lash/brow tinting:
$50 combo (Offer is good for day of event only.)
TCA peel:
$189 (normal pricing $209).
Holiday facial promos:
30-min. brightening facial: $99.
60-min. anti-aging spa facial: $189.
Laser promo:
Purchase 3 full face series of any laser and get neck or chest treatment for free.
Filler promos:
Lip filler: $150 off.
Cheeks: $1500 2 Voluma (Offer is good for day of event only; scheduled with Tatiana or Christine.)
Liquid face lift:
$2700 (up to 4 syringes); each additional syringe at 50% off regular price.
Botox promos:
Purchase 3 sites, 50u minimum, get treatment to neck free (up to 20u).
Lip flip: $100. (Add-on service only for any Botox or filler treatment.)
Combo promos:
Purchase any aesthetician service (min. $200 value), get 10u of free Botox at your next visit.
Shop with a friend:
Bring a friend and get free microdermabrasion or choice of lash or brow tint with purchase of minimum $200 in aesthetician services.
Bring a friend and get an additional 10u Botox free with purchase of minimum 50u Botox, or purchase of liquid lace lift package.
RECENT EVENTS
End of Summer Event – August 25, 2023
Ladies Celebration – May 13, 2023
CoolSculpting CoolEvent – April 14, 2023
Botox, Besties & Bubbles – February 4, 2023